Take Control of Your Catalog with MetaBot: The Ultimate Suggestion Assistant. MetaBot is an advanced software that revolutionizes object catalog management. As the ultimate suggestion assistant, it offers personalized suggestions based on customer behavior, streamlines objects categorization and tagging, and provides valuable analytics to improve catalog performance.
MetaBot is an intelligent suggestion assistant designed to enhance the functional description of your catalog. Powered by our Data Science team, it offers a new generation of automated features that facilitate the descriptive work of objects. From object tagging and personal data classification to collaborative text evaluation and customizable suggestions, MetaBot offers a comprehensive suite of tools to help you manage your catalog more effectively.
Efficient Data Curation with Object Tagging
This feature enables you to curate data entries and automatically suggests tags, labels, and other attributes to enrich and complete the object sheets. MetaBot analyzes the technical label of the object, its description, summary, labels, and their keywords to offer you a list of suggested tags that may correspond to the object in question.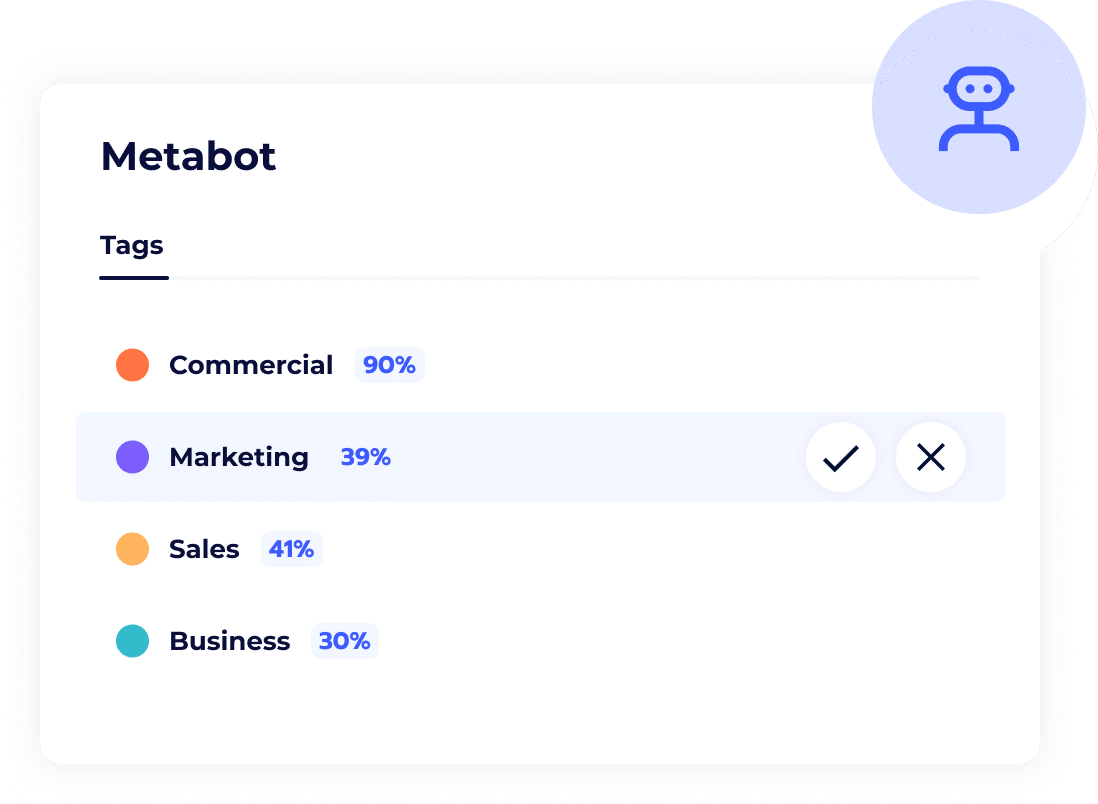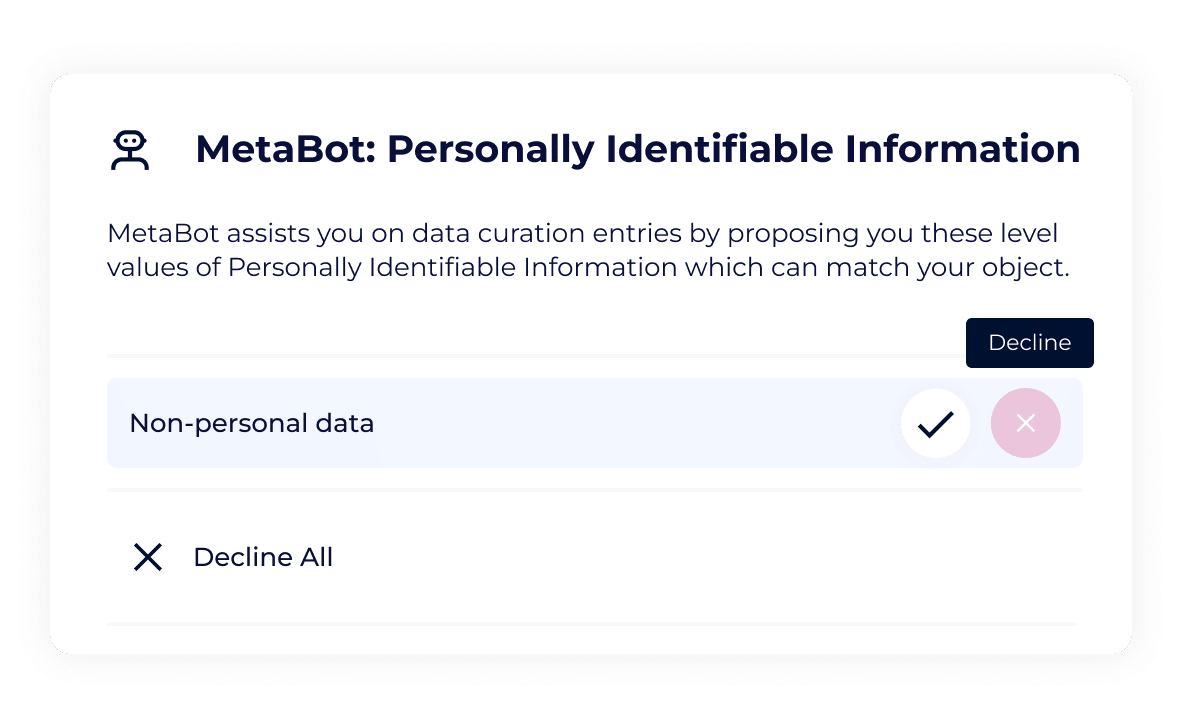 Stay Compliant with Personally Identifiable Information
MetaBot helps you ensure compliance with macro identification of data sensitivity levels through the Personally Identifiable Information (PII) attribute. This feature allows you to identify and tag personal data, and ensure it is handled and stored appropriately. With MetaBot's PII attribute, you can be confident that your catalog complies with all data protection regulations.
Elevate Your Catalog's Quality with Collaborative Text Evaluation
MetaBot offers a collaborative work environment that allows multiple users to evaluate and improve the quality of descriptive texts. The suggestion engine provides an evaluation score indicator that estimates the quality of text entered in the rich text type attributes in the object sheet, such as descriptions. Additionally, MetaBot's voting system allows users to evaluate the text, helping to ensure that it is of the highest quality.
Customizable Suggestions for Tailored Catalog Management
MetaBot also allows for customization, providing users with suggestions for label type attributes (publishers and custom). This feature allows you to tailor the suggestion engine to your specific needs, ensuring that it is working optimally for you and your team.
Not yet a
DataGalaxy user?