Navigating ESG Compliance in 2024: Addressing Stakeholder Expectations and SEC Requirements
Climate change has been a mainstream topic for the last decade and more. It continues gaining popularity among global citizens as we witness adverse events related to global warming, melting glaciers, lost habitats, animal extinction, food shortage, and life expectancy. As more scientific evidence becomes public, it warrants a change in global strategy among various governments and organizations. The impact of Greenhouse Gas (GHG) emissions could be inevitable if not mitigated in time.
Among the many solutions to prevent climate change, the Environment, Social, and Governance (ESG) framework is widely being adopted by many organizations and even used by security exchange firms such as the SEC to benchmark investment portfolios to cater to stakeholder needs around impact investing options. Recent developments in various industries show ESG continues to gain adoption from previously being voluntary to a mandatory reporting requirement. It is used as an effective risk management tool to compare companies across various industries and predict their success without looking at a balance sheet. Many industry analysts realize, in addition to the environmental component, social and governance constructs play a much more significant role in realizing success for any given company.
Many elements within the ESG framework require attention and due diligence, especially as organizations prepare to comply with mandatory ESG Reporting and a 2024 deadline set by the US Security and Exchange Commission (SEC). ESG Reporting could be arduous without adequately understanding the company's overall supply chain footprint. Most of the ESG Reporting requirements contain non-financial data, and it focuses on three key areas:
SCOPE 1
Definitions:
Covers direct emissions by company-owned assets.
Examples
Facilities
Equipment
Vehicles
Landfills
Amenities
SCOPE 2
Definition:
Covers indirect emissions from energy procurement.
Examples
Purchased
Electricity
Heating
Cooling
Water
SCOPE 3
Definition:
Covers all other indirect emissions from 3rd relationships.
Examples
Transportation
Distribution of Goods
Waste Management
Energy and Fuel Consumption
Leased Assets
Traveling
ESG Reporting & Chief Sustainability Officers
The journey to successful ESG Reporting around each scope 1, 2, and 3 requires a concerted effort from the C-suite executives to the individual stakeholders. Most companies have already begun to create an ESG function and formalize the Chief Sustainability Officer (CSO) role at its helm. Such newly appointed CSOs face numerous challenges:
Each stakeholder involved in ESG Reporting has various roles and responsibilities when collaborating with the Chief Sustainability Officers. The ESG data needs require special attention and collaboration with the Chief Data Officers, especially in identifying critical data elements, assigning ownership, data flows with source-to-target traceability, and quality and privacy standards. The below picture outlines various groups and their ESG Reporting needs: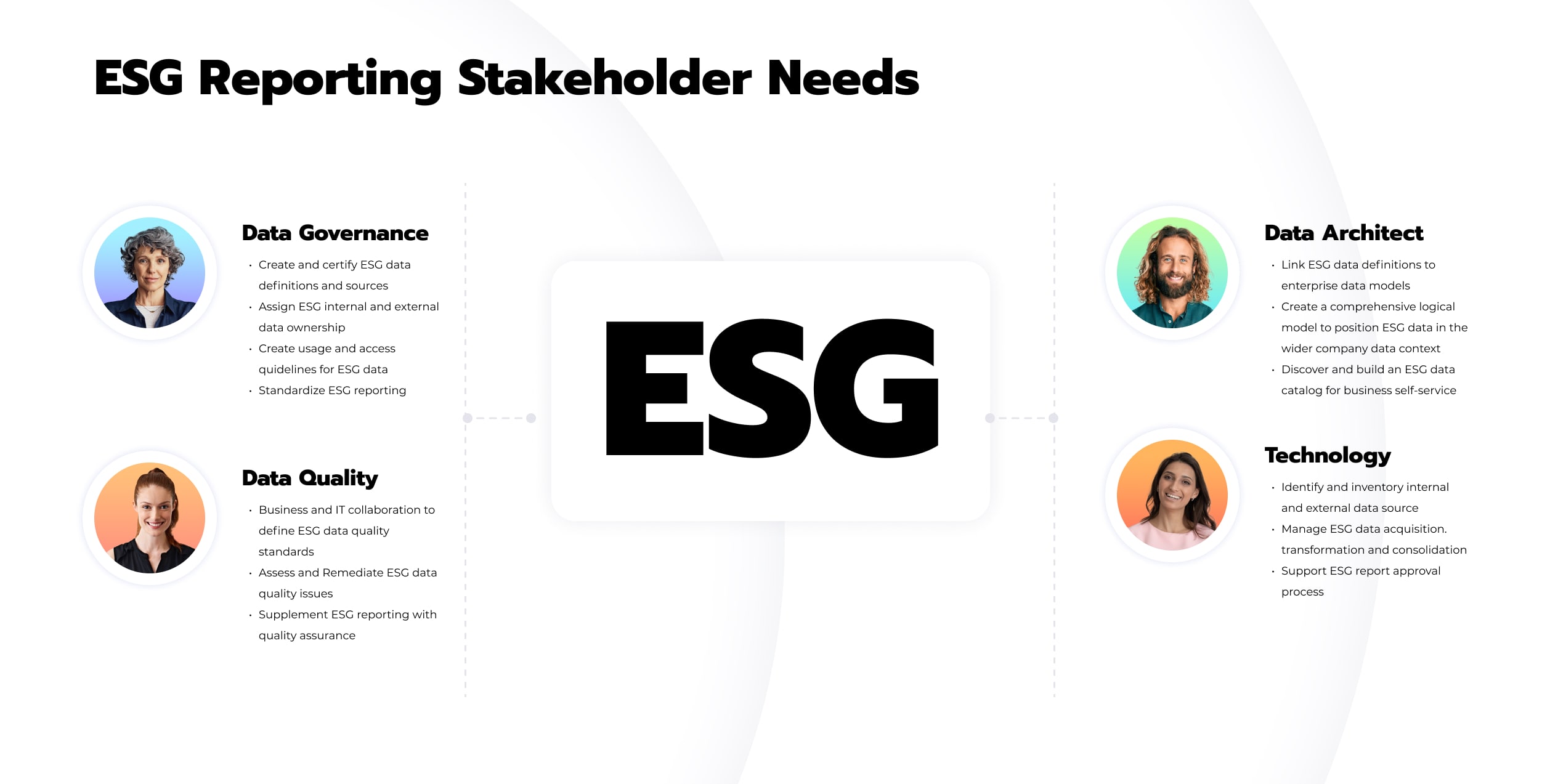 Given the above stakeholder needs, the role of DataGalaxy's ESG Data Platform becomes much more critical in delivering unique experiences to promote wider business, user, and technology adoption. More importantly, to help Chief Sustainability Officers confidently comply with mandatory ESG Reporting and conversation with Regulators on Scope 1, 2, and 3. The stakeholders from groups such as data governance, data quality, data architecture, and technology find autonomy to deliver on individual tasks while tracking holistic progress around compliance goals.
Working with customers across various industries and geographies, the DataGalaxy ESG Data Platform combines industry best practices and practical customer experiences to deliver rich user experience so each team can find a home to map relevant data standards and procedures. Here's a sample of how DataGalaxy ESG Data Platform serves each of the stakeholders: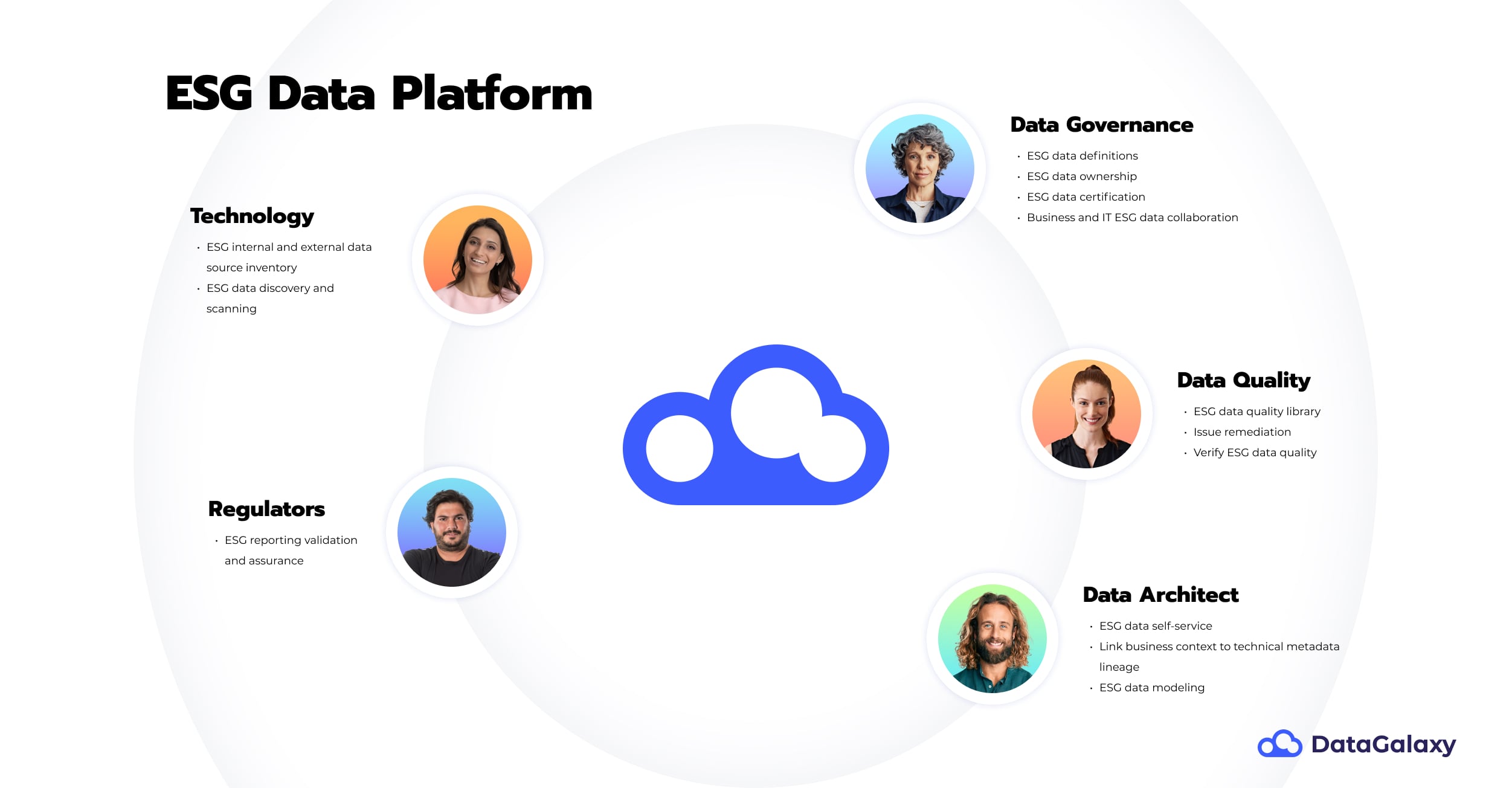 Interesting in learning more? Check out DataGalaxy's ESG Data Platform for your unique ESG Reporting requirements. Happy Compliance!