our partner
Business & Decision:  Consulting and Digital Services Company 
Business & Decision is a leading international management consultancy and system integrator for Data Intelligence & Digital Experience.  Their expertise lies in Master Data Management (MDM), Data Quality Management (DQM), Business Glossary (BG) and Enterprise Metadata Management (EMM) solutions, which support and structure corporate data governance policies.
Data governance is essential when it comes to implementing data and digital projects such as customer repositories and multi-channel product repositories. This also includes Big Data projects such as the control of internal and external data quality and external repositories. Essentially, data governance is key to guaranteeing the competitiveness of companies, improving services, and complying with regulatory obligations.
To learn more, visit their website: Business&Decision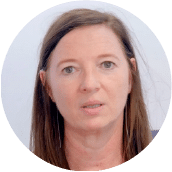 DataGalaxy is the foundation of data governance. Business and IT collaborate on defining roles, rules and organization to de-silo the data in order to get value from it.
Karine Devenyns
Manager Consulting Expertise Data and Digital
DataGalaxy Service Partner
For more than 15 years, Business & Decision has developed expertise in assisting companies with data management and data governance issues.
Karine Devenyns
Manager Consulting Expertise Data and Digital
Together let's
go further!