The Data Knowledge
Catalog
At the heart of DataGalaxy lies a powerful,
user-friendly tool: The Data Knowledge Catalog
DataGalaxy's all-in-one Data Knowledge Catalog offers out-of-the-box actionability with fully-customizable attributes, powerful visualization tools, standardized business glossaries, and AI integration to help organizations easily document, link, and track all their metadata assets on one dynamic platform.
DataGalaxy's Data Knowledge Catalog is dedicated to user-centric metadata mapping, management, and knowledge sharing to help your business manage data your way.
"Our organization has recieved many benefits from using DataGalaxy's Data Knowledge Catalog, including fully-documented functional and technical use cases, a personalized algorithm library, and clear ownership of all assets."
Vincent Chalmel
EXPLORE Chief Data Officer
Data catalogs help you take control of your data: Derive valuable insights to drive informed decision-making, identify opportunities for innovation, and optimize business strategies for growth and competitive advantage all under one user-friendly roof.
A data catalog also enables employees from all teams to collaborate using centralized, homogeneous data sets. Improved collaboration can lead to saving both time and money by reducing redundancies and questions around commonly used data items.
The DataGalaxy Difference
DataGalaxy's Data Knowledge Catalog provides in-depth clarity about data definitions, lineage, and essential business attributes so all users can understand and leverage their data as an asset.
We implement several user-friendly features into our data catalog including an all-in-one Business Glossary, intuitive data visualization tools, detailed data lineage tracking, and natural language search features built for users across all organizational departments.
One
data management platform


to Govern Them All
Data Dictionary
Merge all your data sources with one powerful solution
Our fully-automated data catalog and customizable API optimize data integration into our platform to unleash the potential of your company's metadata. Connect all your data to our main knowledge base platform to easily centralize everything, no matter its original source.
DataGalaxy's Data Knowledge Catalog offers 70+ integrated connectors to effortlessly import your projects into one dynamic, customizable data landscape.

Search & Discovery
Advanced natural language research capabilities for your entire team
Don't search for data anymore, find it where it belongs. Transform primative knowledge into accessible, optimized, and useful data using suggestions, tasks and Metabot, our AI suggestion assistant.
Our dynamic search bar gives you instant, centralized access to your entire data catalog, and our natural language features ensure finding information is easier than ever, no matter your level of technical knowledge.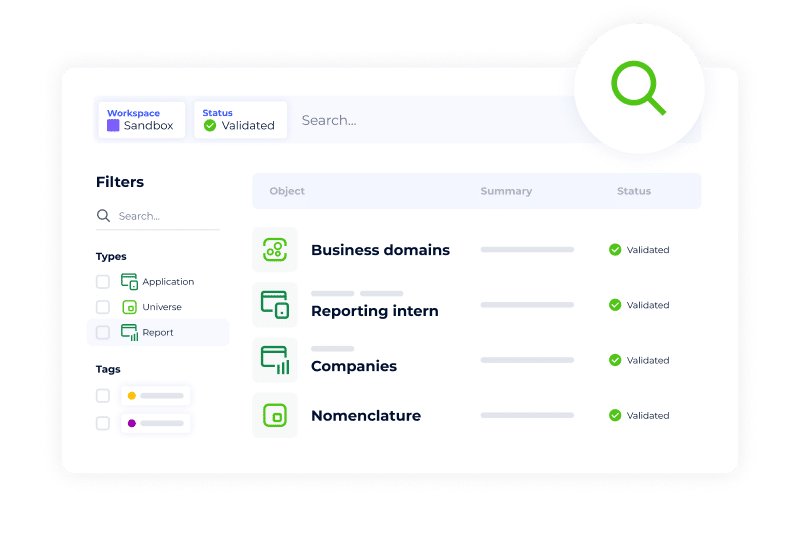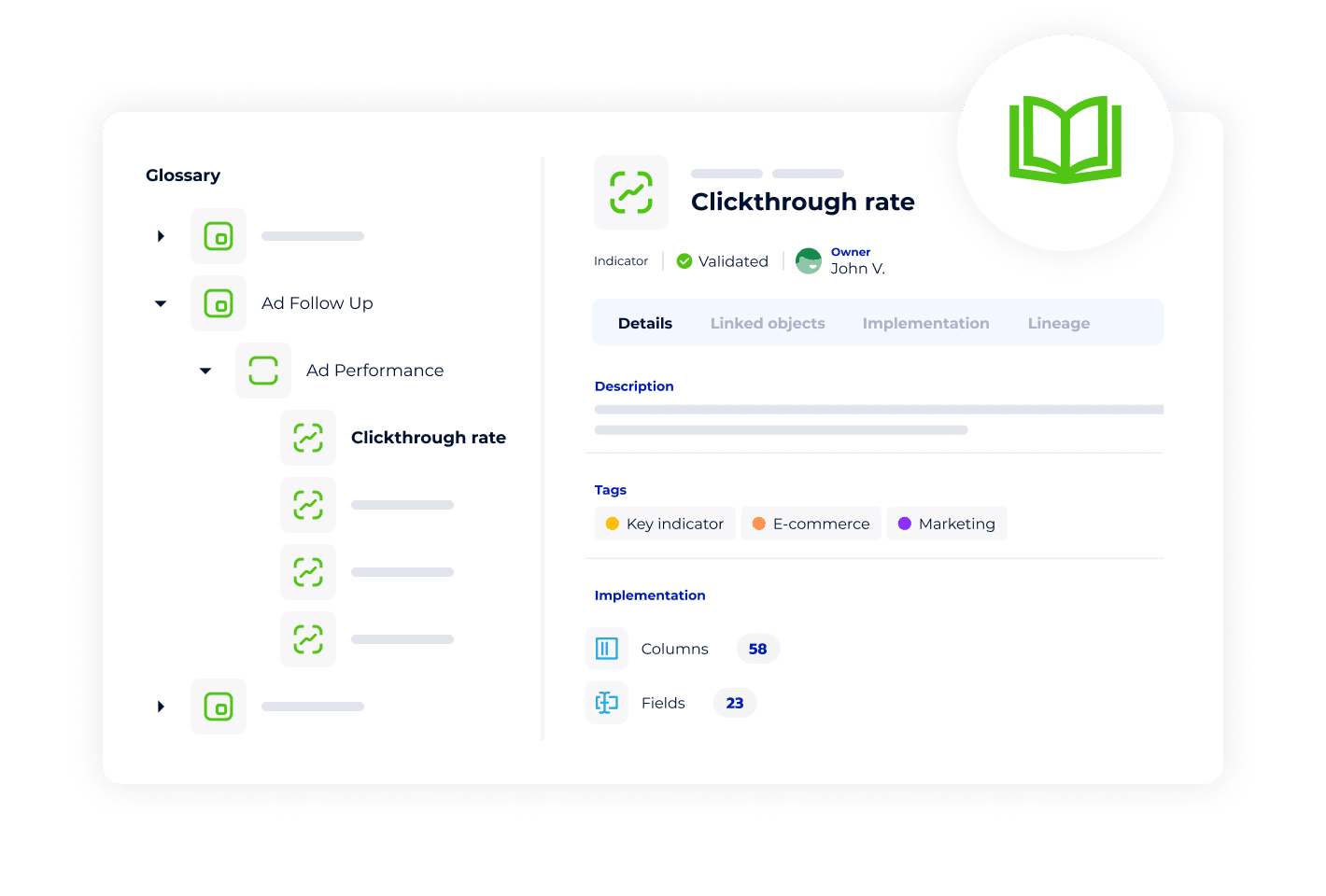 Customizable Business Glossary
The Wikipedia of your company
Bridge the gap between business, IT, and technical teams by creating a standard, customized data language for all users. Our fully-automated Data Catalog and customizable API make it faster than ever to integrate your data and efficiently empower business decisions.
Our Data Catalog's Business Glossary tracks child objects, subtasks, and asset names to help you find exactly what you're looking for.
Trustworthy analytics
Transform your data from a liability to an organizational asset
Implementing a data governance strategy relies on a high level of data quality. Using and sharing powerful metadata among team members can help improve operational efficiency, increase data quality, and provide real-time value. DataGalaxy's Data Catalog platform is designed to support collaboration by facilitating data governance and sharing metadata knowledge.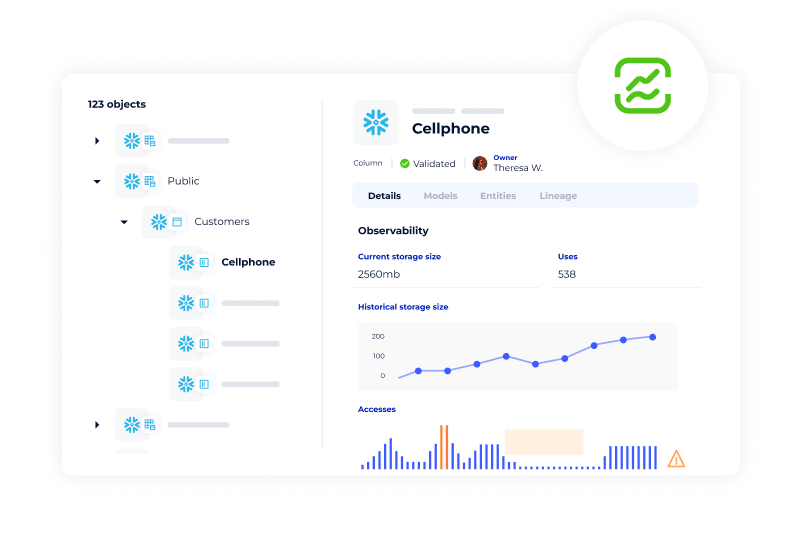 Intuitive Data Lineage
Visualize your data's entire journey over time
Navigating enterprise information systems can be a tricky process. With DataGalaxy's Data Knowledge Catalog, tracking your data becomes easier than following your GPS. Trace your company's data lineage and visualize a sensible path that works best for you.
Our intuitive software follows lineage up- and down-stream, so you can easily track your data journey from beginning to end and export data paths to faclitate simple, effective collaboration for your whole team.
Dynamic collaboration
Removing data silos one notification at a time
Avoid clogged information flow by utilizing a Data Catalog that connects employees from all business units. DataGalaxy's Data Knowledge Catalog allows your team to easily trace your metadata's transformation path, analyze change impacts, oversee modifications to the entire data set, and identify and mitigate risks before they happen.
Empower your teams and bring your data to life by facilitating democratized data collaboration based on reliable, interconnected sources.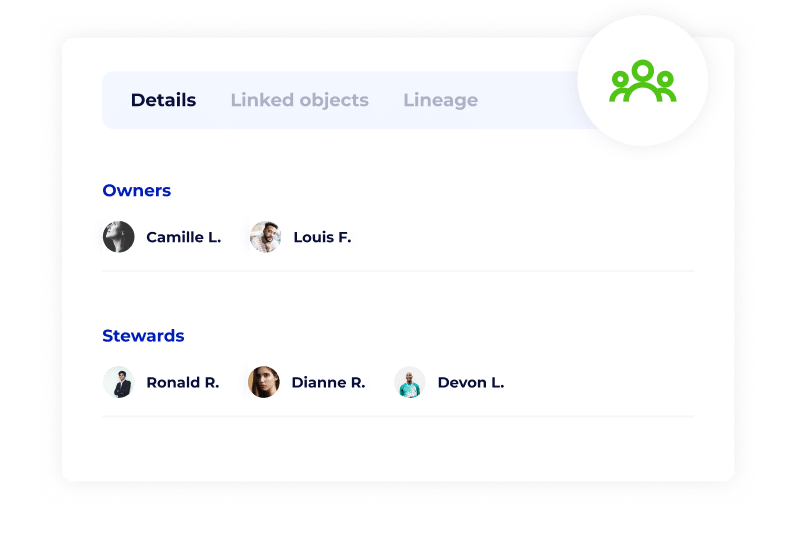 Find your data in under three seconds with DataGalaxy! Schedule a demo today and achieve complete organizational data governance with our powerful, dynamic, and user-friendly Data Knowledge Catalog.
"DataGalaxy's Data Knowledge Catalog has provided so many benefits for our organization, including a fully-documented functional and technical use case, a thorough algorithm library, and a clear identification of ownership between IT, business, data, and BI teams."
Emmanuel Dubois
SwissLife Chief Data Officer
Join the 130+ leading brands already using DataGalaxy
Join the ranks of 110+ leading
brands using DataGalaxy